The Rizla Suzuki makes the world through its new livery in 2011, GSV-R. Machine ridden by Alvaro Bautista in the series this season in the MotoGP World Championship is the final generation of the 800cc GSV-R prototype four-stroke, due to changes in capacity-1000cc limit for next season. The latest - and most technologically advanced version of the Suzuki MotoGP - challenger engine features that have been improved on, driveability and durability horsepower through many changes in the detailed construction throughout the winter and pre-season testing. He also has a characteristic acceleration of the increase - especially out of slower corners - to help Bautista in his challenge for MotoGP glory.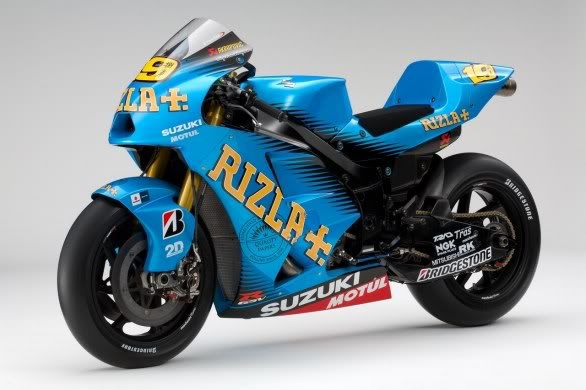 GSV-R Rizla Suzuki Left Side

GSV-R Rizla Suzuki Right Side

GSV-R Rizla Suzuki Front

GSV-R Rizla Suzuki Above

GSV-R Rizla Suzuki Rear
Rizla Suzuki Mechanic Team
Currently

Alvaro Bautista

with

his

Rizla

Suzuki team

mate

is ranked

12th

in the

2011

MotoGP

series

standings

with 67

points

adrift

of league leaders

217

numbers

that

once

candidates

2011

MotoGP

champion

Casey

Stoner

.
Rizla Suzuki rider Alvaro Bautista
Rizla Suzuki rider Alvaro Bautista earns sixth place at Motorland Aragon GP
GSV-R Rizla Suzuki Specification